Moving Stock
The Move Button
To move stock from one department to another you need to go to the product page. At the very bottom of the page you will see . Click it to continue.
It will take you to another page which looks like this: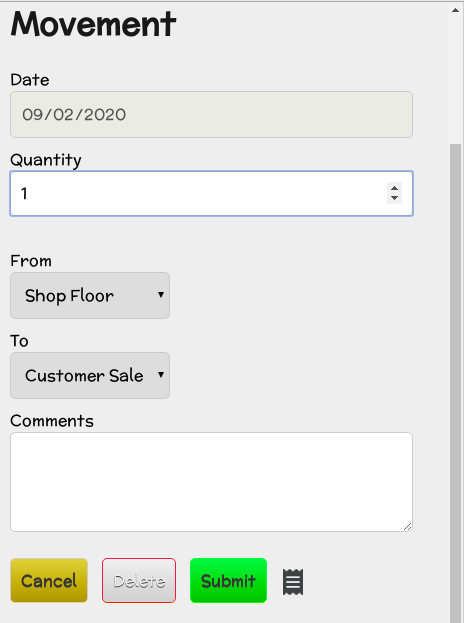 Below is an explanation for each section of the form and the buttons found at the bottom of the page.
Date - The date that this Movement took place.
Quantity - The number of Retail Units for this Product being moved.
From - The Department that the product is being moved from.
To - The Department that the product is being moved to.
Comments - Any comments about the movement that you feel are relevent.
- Cancel and return the previous page.
- Submit the Movement data to

Lock Stock

.
- Delete the Movement. Generally do not delete movements. In almost all circumstances it's better to edit a movement or correct an error by Stock Checking, and it will result in cleaner data. In particular, deleting historic Movements is a bad idea. Delete at your own risk!
The Movements Button
To the left of on a product's information page you will find . Clicking it will show a list of the Product's recent Movements.
Clicking will also expose a number of extra buttons:
- This will scroll the page down to the recent movements data.
- Shows the movement data for a Product in a printer friendly fashion for any year.
- Click this to browse Orders relating to this Product.
Creating an Order and any other information regarding them can be found in the Orders section of the manual.
---