Tools
Mark Up
Here you can specify a set mark up to the cost price for a specific category of products. Doing so will allow Lock Stock to calculate the sales price for you following the parameters you set.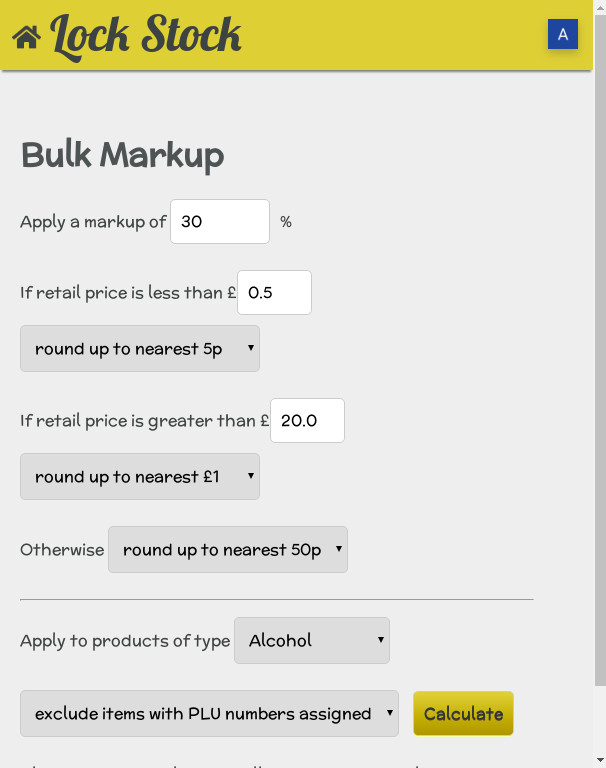 In the first box choose the percentage of the cost price that you wish Lock Stock to add to the cost to determine the actual sales price. For example, a product cost you £100 to buy and you choose a mark up of 25%. Lock Stock will then create a sales price of £125 for that product.
The next 3 options on that page allow you to tell Lock Stock to round up the price to different values or not to round it up at all. You can also set different round up options for products below or above a certain value, and you can choose the values.
For example you can tell it to charge a minimum of 5p for any products you buy at a retail price of less than 5p. Or you can tell it to round up products with a retail price above £20 to 99p.
On the next half of the page you can choose the category of products you want Lock Stock to apply it to. It also gives the option to exclude or include products with PLU codes.
Once that is done, click calculate. Lock Stock hasn't applied them at this point giving you the opportunity to review them first. If you're happy with them you can then click and the prices will be applied.
You can change the price for any individual product manually afterwards if you wish to.
Back Up
Click to back up your stock data. It can take a few seconds if you have lots of data stored.
This will produce a MySQL dump file. This can be used to recreate your data on any MySQL server.
---